Bob Licari was invited by the Postmaster to join in a Private Tour of the USS Cole Battleship in Port Everglades Florida. The USS Cole was attacked by Al-Qaeda suicide cell. 17 Sailors were killed. The ship has since been upgraded to new technology and all damages were repaired.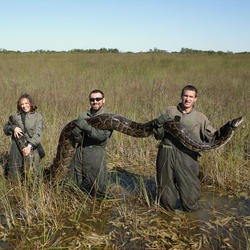 The Python Elimination Program started in 2017 and incentivizes a limited number of public-spirited individuals to humanely euthanize these destructive snakes which have become an invasive apex predator in the Everglades.
BrainSell and Handy Electric of Florida team up to rescue a cat stuck on a 3rd story roof for almost 2-weeks. Neighbors were throwing food wrapped in wet bread to get food and water to the young feline.